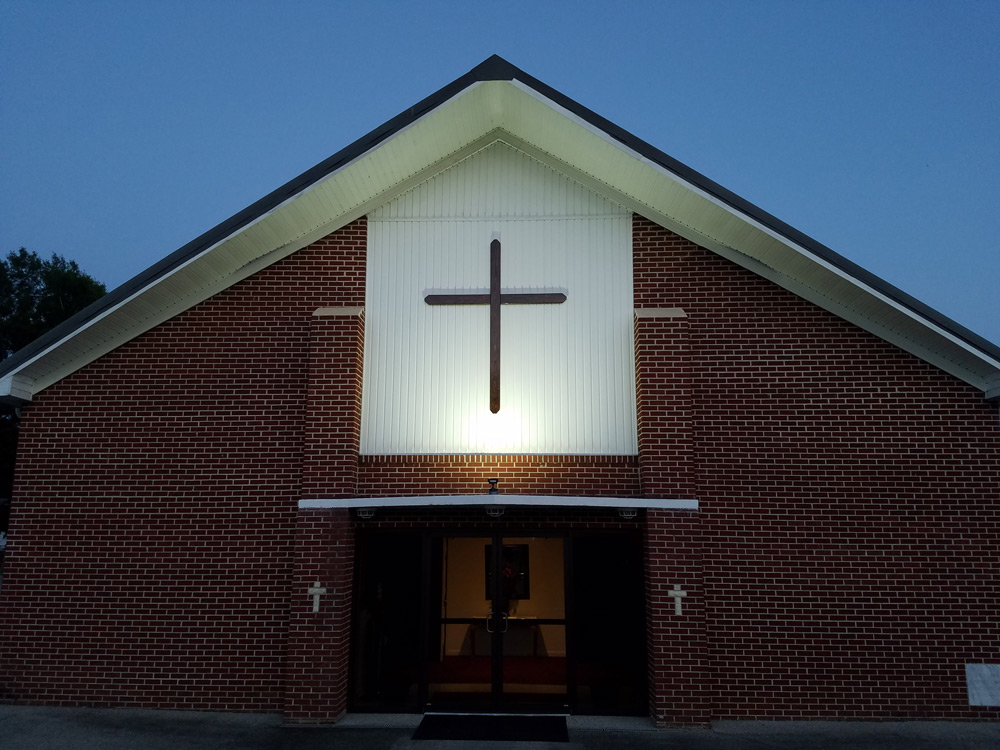 Woolmarket Baptist Church is a cooperating Southern Baptist church. We are a part of the Gulf Coast Baptist Association, the Mississippi Baptist Convention and the Southern Baptist Convention.
History
Woolmarket Baptist Church was organized on October 19th, 1941 following a two week revival that was held under a brush arbor constructed on Curry Road. There were twenty-two (22) charter members with Rev. E. S. Flynt serving as the first pastor. After meeting in the homes of church members for the first 5 years, a church building was constructed at the corner of Lorraine Road and Woolmarket Road. In September of 1968 the first worship service was held in our present sanctuary. Over the years since 1968, 3 additional buildings and a parsonage have been built and the church now sits on approximately 13 acres of land located at 12816 Lorraine Road, Biloxi, MS.
Beliefs
Woolmarket Baptist Church fully supports the statement of beliefs known as "The Baptist Faith and Message" that was adopted by the Southern Baptist Convention in June, 2000.
Staff
Pastor, Rev. Paul Crowley.
Bro. Paul has served as pastor since October, 1995. Bro. Paul was born and raised in Western Kentucky. He is a graduate of the University of Southern Mississippi, and of New Orleans Baptist Theological Seminary. He is married to the former Pamela Necaise of Long Beach. Their family consists of two adult sons, Andrew and his wife Amanda, and Aaron, along with a precocious Maltese named Annabelle.
Administrative Assistant, Ms. Debra Boyd.
Ms. Debra has served as Administrative Assistant since January, 1984. She is a graduate of the University of Southern Mississippi. Debra has lived in Woolmarket for most of her life. She has one adult daughter, 3 grandchildren and one great-grandchild.
Associate Pastor, Dr. James Haynes
Dr. Haynes joined the WBC staff in 2017. He is a native of Arkansas. In addition to his duties as Associate Pastor he is the director of the "Clinic for Hope and Healing" a Christian counseling ministry that operates out of the church's facilities. Dr. Haynes is a graduate of William Carey University and of New Orleans Baptist Theological Seminary. He and his wife Cheryl have 6 children and 17 grandchildren.
Minister of Youth, Joel Sigurniak
Joel joined the WBC staff at the beginning of 2018. He is coast native and a graduate of The University of Southern Mississippi and of New Orleans Baptist Theological Seminary (2018). He and his wife Christy have one daughter, Grace.
Children's Director, Mrs. Peggy Brock
Mrs. Peggy joined the WBC staff as volunteer Children's Director after her retirement from full-time vocational ministry. Mrs. Peggy is a graduate of Campbellsville University in Kentucky and New Orleans Baptist Theological Seminary. She brings much experience and enthusiasm to our Children's ministries. Mrs. Peggy and her husband Jack now live in the Woolmarket community.
Minister of Music and Adult Ministries, Rev. Jerry Nance
Rev. Jerry Nance joined the WBC staff April 1, 2019. He is a native of Gulfport, MS. Bro. Jerry holds a Bachelor of Music degree from Mississippi College and Master of Church Music and Master of Divinity Degrees from New Orleans Baptist Theological Seminary. Bro. Jerry and his wife Faith have 2 adult children and 3 grandchildren.